The UK's Payments Landscape
10 June 2020 | Payments, Payments, Payments subscriber email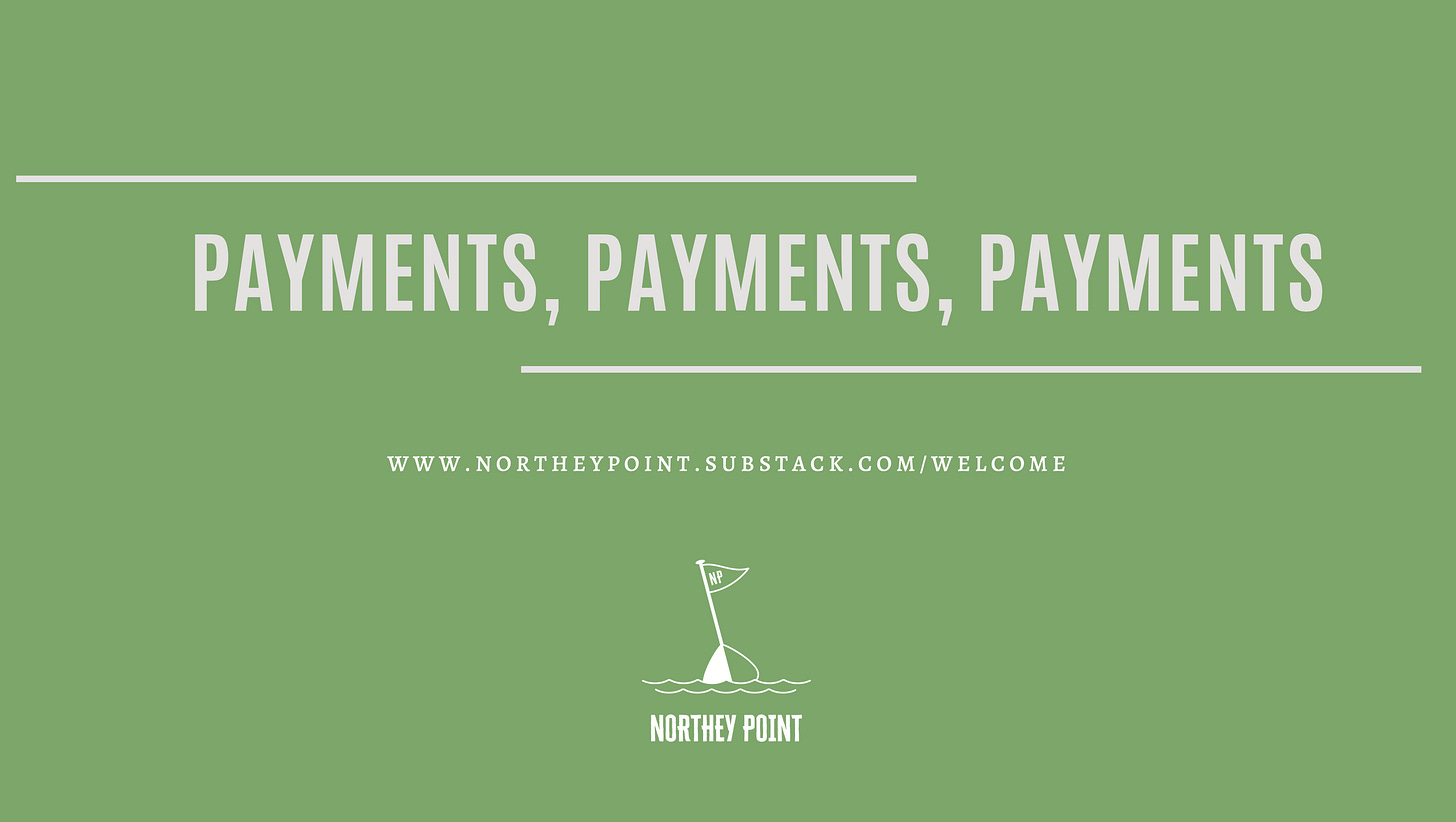 For many years I have looked forward to the annual publication of the UK Payment Market Report by UK Finance. The report provides an annual digest of the ups and downs of each of the UK's payment mechanisms. As you can imagine I was always keen to see how my schemes were performing against other payment types. Today, however, I can be a little less competitive and take a more holistic view of the payments landscape.
The 2020 report has just been published by UK Finance and it provides us with a unique insight into the use of all types of payments in the UK during 2019.
UK Finance publish a summary of the report, this can be found at: UK Finance Payment Market Report 2020.
This subscription newsletter outlines the UK's payments environment and sets the scene for the 'Payments, Payments, Payments' newsletters in 2020. Having set the scene future weekly updates and subscriber drops will unpack the UK's changing payments landscape piece by piece.
Until the launch of the Faster Payments service we experienced an environment where we inherited our payment choices from our parents and were offered a payments market that hadn't really changed since Reg Varney unveiled the first ATM at Barclays, Edgware in 1968. In general our payment habits were formed in early adulthood and remained sticky though each stage of our life.
Over the last few years these inherited and sticky payment habits have been challenged by a number of initiatives that have quickly formed new payment habits - habits which have been pivoted by the challenges and opportunities presented firstly by the arrival of COVID19 and now as we look forward to a 'new normal'.
As the payments market responds to the challenges of COVID19, it is clear that a payment market that historically tended to move slowly is changing at an unprecedented rate - with new payment habits being forward that are both increasingly digital and sticky.
As we consider the swift transition to digital payments it is important to remember the decision to change the way we pay should always be driven by the consumer and not dictated by retailers, government, regulators or the banks.
A broad mix of payment options that are increasingly digital but have options such as cash and cheques within the mix should be our goal.
Consumers should be able to decide for themselves how they pay. For us, it is important to have a broad mix of options and that efficient methods for payment are available

Burkhard Balz, Bundesbank, Germany.
The UK Payment Market Report published by UK Finance concisely summarises the UK's payments landscape and provides a useful basis to make a forecast or prediction for the coming years.
At an aggregate level 40 billion payments were made in the UK during 2019, with 35.3 billion of these payments were made by consumers and 4.7 billion by businesses.
For the first time card payments represented over half (51%) of all payments made in the UK and 80% of adults made a contactless translation in 2019.
However, taking each of the UK's payment options in turn allows us to unpack a diverse set of payment options:
Debit Cards
In 2019 Debit Cards accounted for 42% (17 billion) of all payments in the UK, an increase of 12% compared to 2018.
48 million adults now shop online using a card, including 80% of people aged 65 and over.
Interestingly, UK Finance report that 98% of the adult population hold a Debit Card. From a Financial Inclusion perspective the ability to hold a bank account with a Debit Card should be a right and not a privilege and in an increasingly digital / cashless society we should look to current account providers to bridge the 2% gap.
Additionally, we need to ensure that all those who hold a Debit Card feel comfortable making payments and managing their finances using a Debit Card.
During 2019 we have seen the rise of the digital wallet with 40% of those aged between 25 and 34 using Apple Pay, Google Pay and Samsung Pay digital wallets. It is very likely that the use of digital wallets will grow significantly during 2020 and that the plastic manifestation of a 'card' will become increasingly redundant in favour of a virtual 'card' within a digital wallet.
Credit Cards
68% of adults in the UK have a Credit Card and make 3.5 billion payments, an increase of 7% over 2018.
UK Finance place this growth on an upturn in the economy, consumer confidence post the Brexit referendum, strong competition in the credit card market and increased card acceptance by merchants. The growth in 2019 is also attributed to the growing use of a Credit Card for making payments rather than a borrowing mechanism.
Consumer confidence relating to COVID19 and Brexit related economic pressures in 2020 may cause a change the Credit Card out turn for 2020.
Contactless Payments
The consumer adoption of contactless payments in 2019 continued to grow with a 16% growth to 8.6 billion payments. The growth was driven by the roll out of contactless cards, roll out of acceptance devices and growing consumer confidence.
Whilst it might not be surprising that 87% of 35 - 44 year olds made a contactless payment in 2019 it is encouraging to note that 68% of 65+ year olds are making use of contactless.

Source: UK Finance.
With 85% of Debit Cards and 74% of Credit Cards now enabled for contactless and a rise in the contactless limit to £45 in early 2020 we should expect a significant uplift in contactless transactions this year.
Cash
In should come at no surprise that, during 2019, cash payments continued along a pathway of long term decline with cash based payments being substituted principally by Debit Card and online banking.

Source: UK Finance
During 2019 the number of Cash payments dropped by 15% to 9.3 billion payments and, based on ATM transaction data published by LINK (the UK's ATM operator), this decline will continue into 2020.
Cash use in the UK is becoming polarised with most people more cashless than they realise.
As an example of the polarisation 7.4 million people (5.4 million in 2018) say that they only use cash once a month or not at all whereas 2.1 million people use mainly cash.
Given the penetration of Debit Cards across the UK it must be that some are unwilling rather than unable to use a Debit Card in some or all payment scenarios.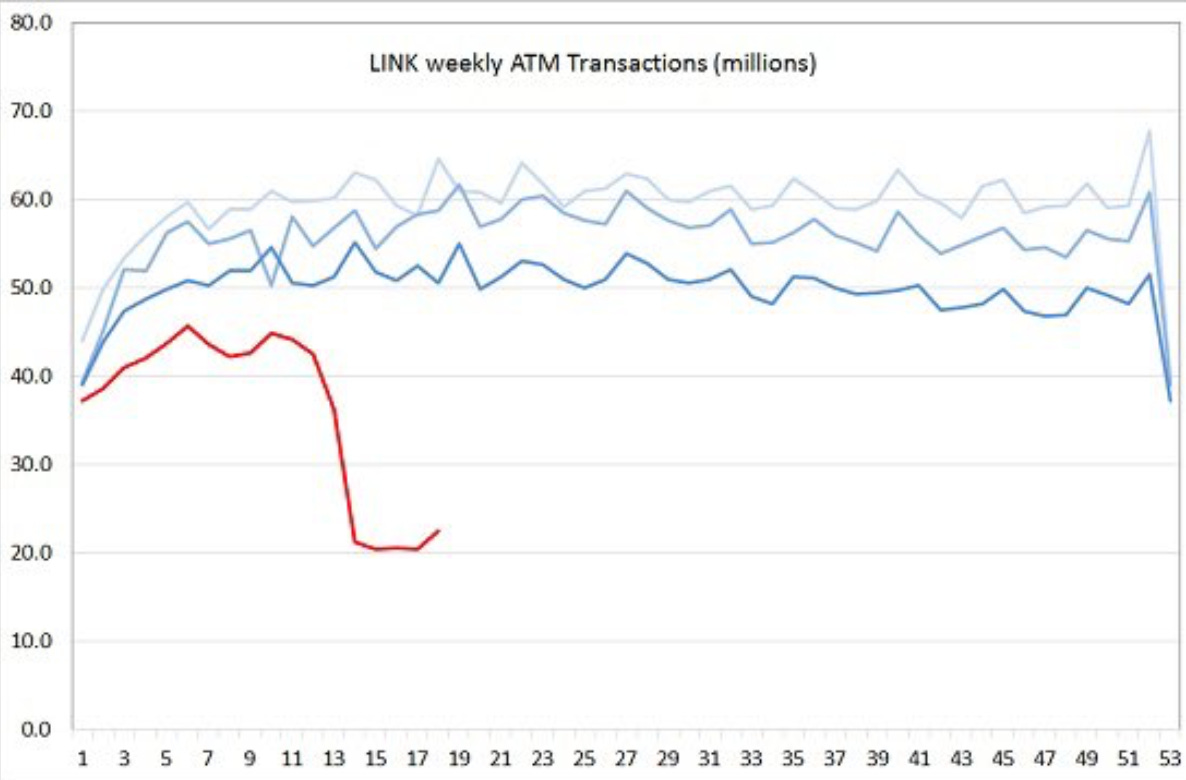 Source: LINK
The blue lines above represent the decline of cash over the years 2017 to 2019 and the red line shows the continuation into 2020 which was then magnified by the COVID19 pandemic. During the first weeks of lockdown our opportunities to spend money fell away so it is no surprise that cash withdrawals at ATM's reduced by 60%.
More interestingly, although cash withdrawal volumes are beginning to pick up as lockdown eases even LINK do not predict a return to the already reduced Q1 2020 transaction levels.
Consumers are choosing to go cashless and we must ensure the cashless / cash choice remains with the consumer. My caution is that if we only preserve cash for cash sake then ultimately we will only serve to leave people behind, we must ensure that all digital options are inclusive, accessible and equitable for all in society.
The transition away from cash is demographic, generational and geographic but I am very mindful that Gen Z or a Millennial's carry neither a cheque book or a £5 note.
That said, such is its historic dominance, Cash has retained its number 2 slot in the most used payment methods and is likely to remain in second place for some time.
Direct Debit
Direct Debit has continued its unique near 50 year continued growth and 4.5 billion Direct Debit payments were made in 2019, a 3% growth compared to 2019.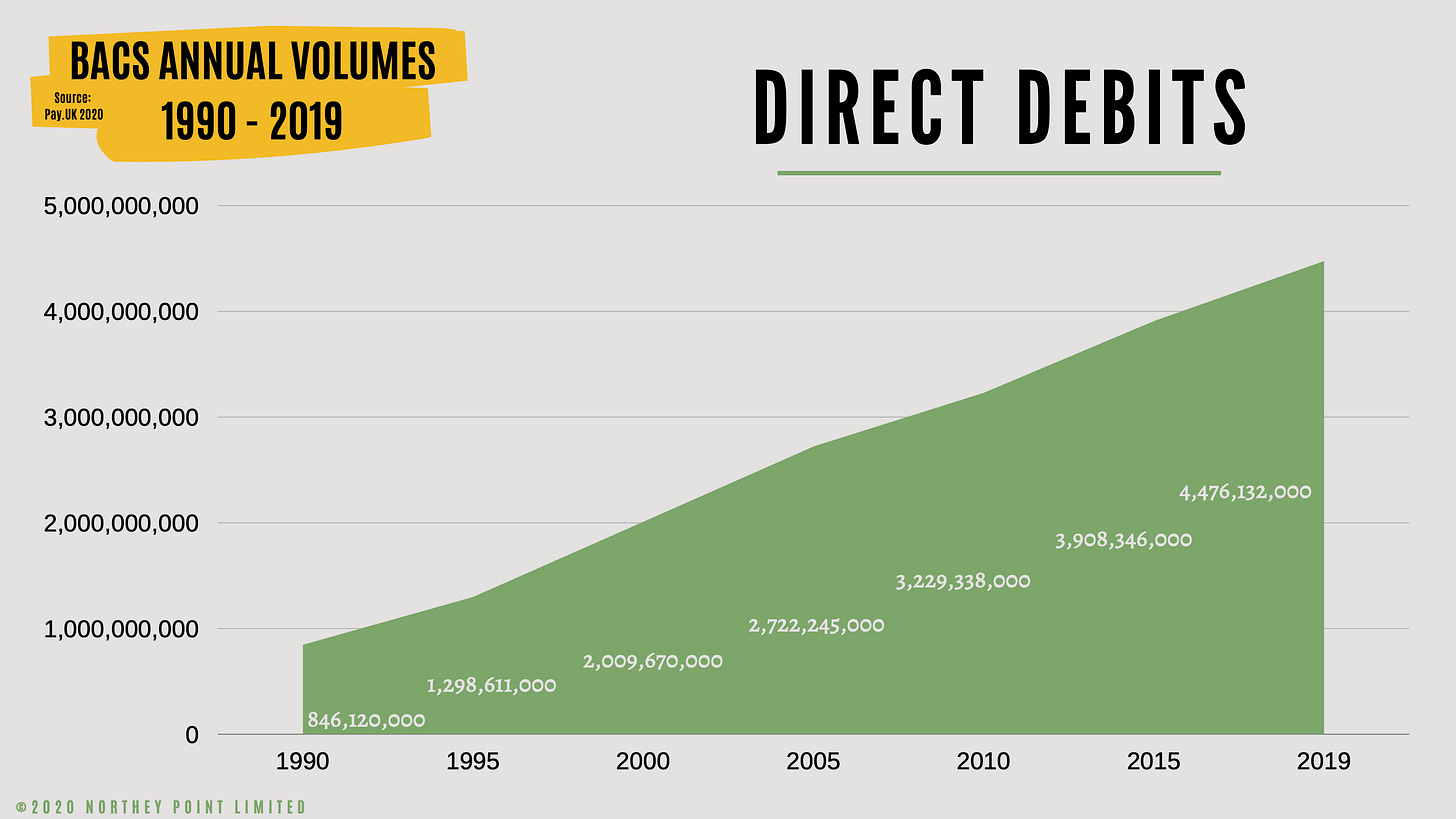 Source: Northey Point
90% of UK consumers pay some or all of their regular bills by Direct Debit with some of the continued growth being attributed to a growing population and an increased number of households.
As we look into 2020 it is likely that, notwithstanding the economic impact of COVID19, the growth in Direct Debits will continue albeit perhaps at a reduced rate (maybe 1% to 2%).
Direct Debit has established itself as the pre-eminent mechanism for making regular payments. Whilst is unlikely that card based Continuous Payment Authorities will challenge Direct Debit it remains to be seen what impact the launch of Request to Pay (RtP) and Open Banking's Variable Recurring Payments (VRP) might have on the well established Direct Debit.
Faster Payments
The growth of online and mobile banking continues to fuel the growth of Faster Payments with a 24% growth in 2019 resulting in 2.4 billion payments.
72% of us use online banking and 50% using mobile banking. As expected 93% of 25 -34 year olds use these banking methods and, by default, Faster Payments
Source: UK Finance (note typo in graphic)
Bacs Direct Credit
Bacs Direct Credit continues to a provide efficient, predictable, regular bulk payment payment mechanism with 80% of the UK's employees being paid by Bacs Direct Credit.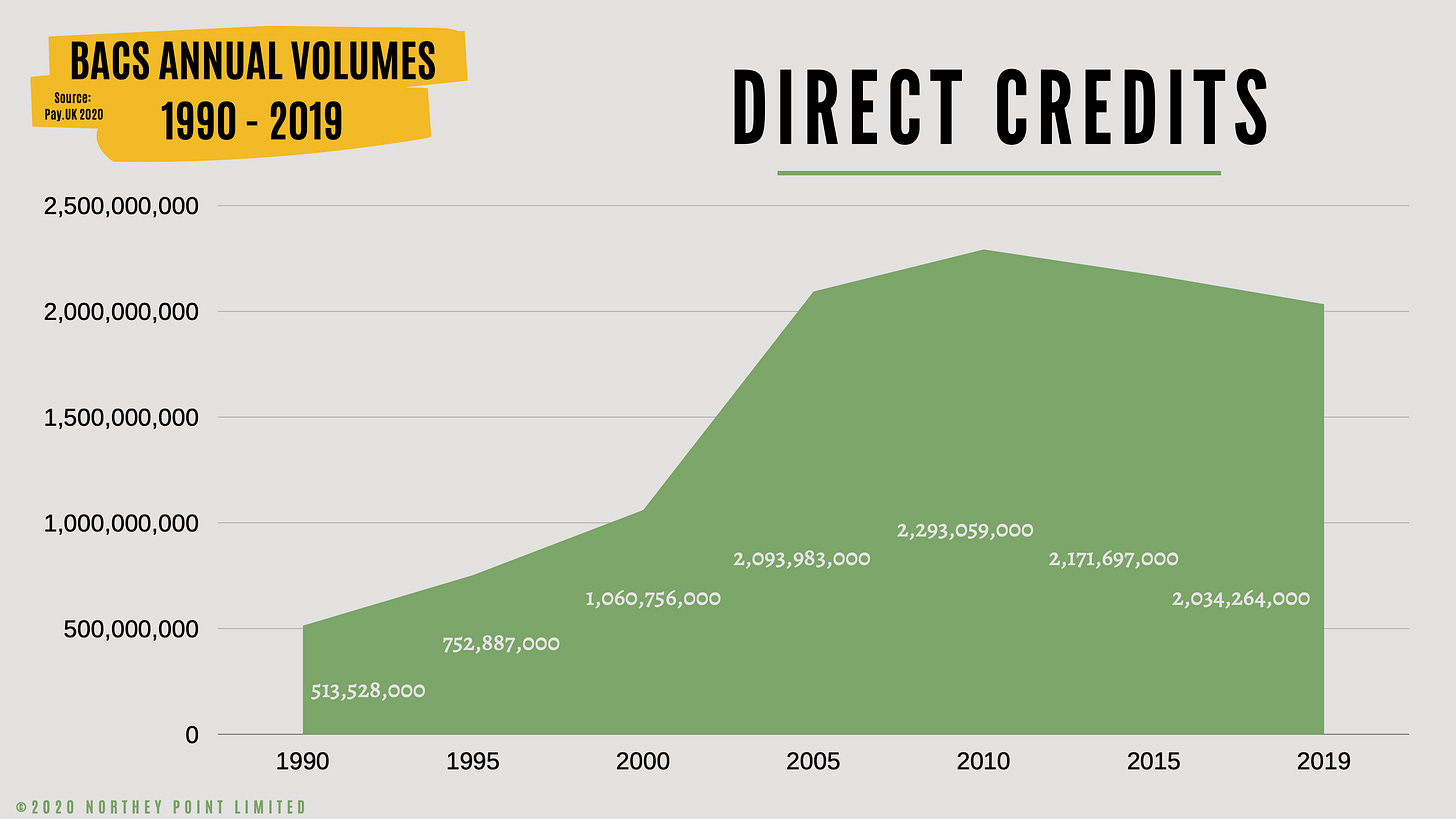 Source: Northey Point
Following the introduction of Faster Payments the volumes of Direct Debit peaked a few years ago due to payment substitution.
Despite a 3% reduction in volumes there were still 2 billion Direct Credit payments processed in 2019.
Standing Orders
Until recently Standing Orders were regarded as a 1970's payment dinosaur and, whilst this description remains largely true, the migration of Standing Order processing to the Faster Payments platform has given Standing Orders an extra period of longevity as people unwittingly use Standing Orders when they set up recurring payments with their bank.
That said, volumes remain flat at 559 million and are likely to remain flat into 2020.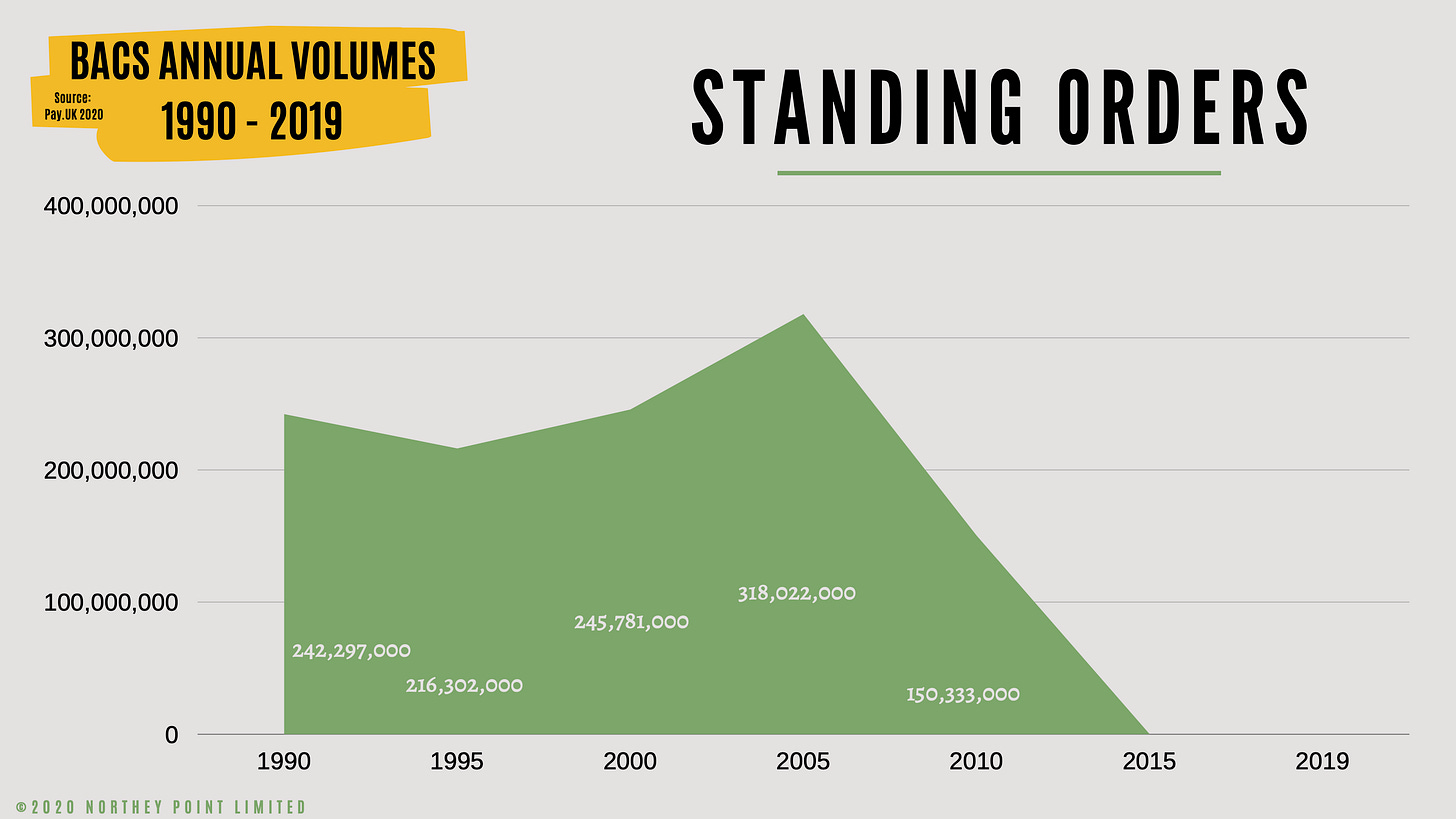 Source: Northey Point
The above graph shows the Standing Orders processed by Bacs prior to migration to Faster Payments. Standing Orders were the last electronic payment method in the UK to include 'float' within the clearing cycle.
Cheques
Notwithstanding the rejuvenation of cheques due to a migration to an image clearing based clearing solution the use of cheques in the UK continues to decline.
Cheques volumes were down by 20% in 2019 and now only equate to 1% of payments made.

Source: UK Finance
Once the image clearing investment cost is addressed then the new system will provide a much more sustainable and cost effective processing mechanism for a paper based payment that will require supporting during a fast decline in both use and acceptance.
Pecking Order
With 40 billion payments processed each year the payment method pecking order is interesting (my prediction for the 2020 pecking order is in brackets):
Debit Card 16.694 billion (1st and large volume increase)

Cash 9.319 billion (2nd and large volume decrease)

Direct Debit 4.482 billion (3rd and small volume increase)

Credit Card 3.453 billion (5th and small volume increase)

Faster Payments 2.449 billion (4th and large volume increase)

Bacs Direct Credit 2.034 billion (6th and flat volume)

Standing Orders 0.559 billion (7th and flat volume)

Cheques 0.272 billion (8th and large volume decrease)
An aside
Given the push / pull difference between a Direct Debit and a Bacs Direct Credit, UK Finance understandably split the two payments types.
During my time as Bacs' CEO I was always keen to see how Bacs ranked in the payments pecking order.
The Bacs total volume for 1990 to 2019 is: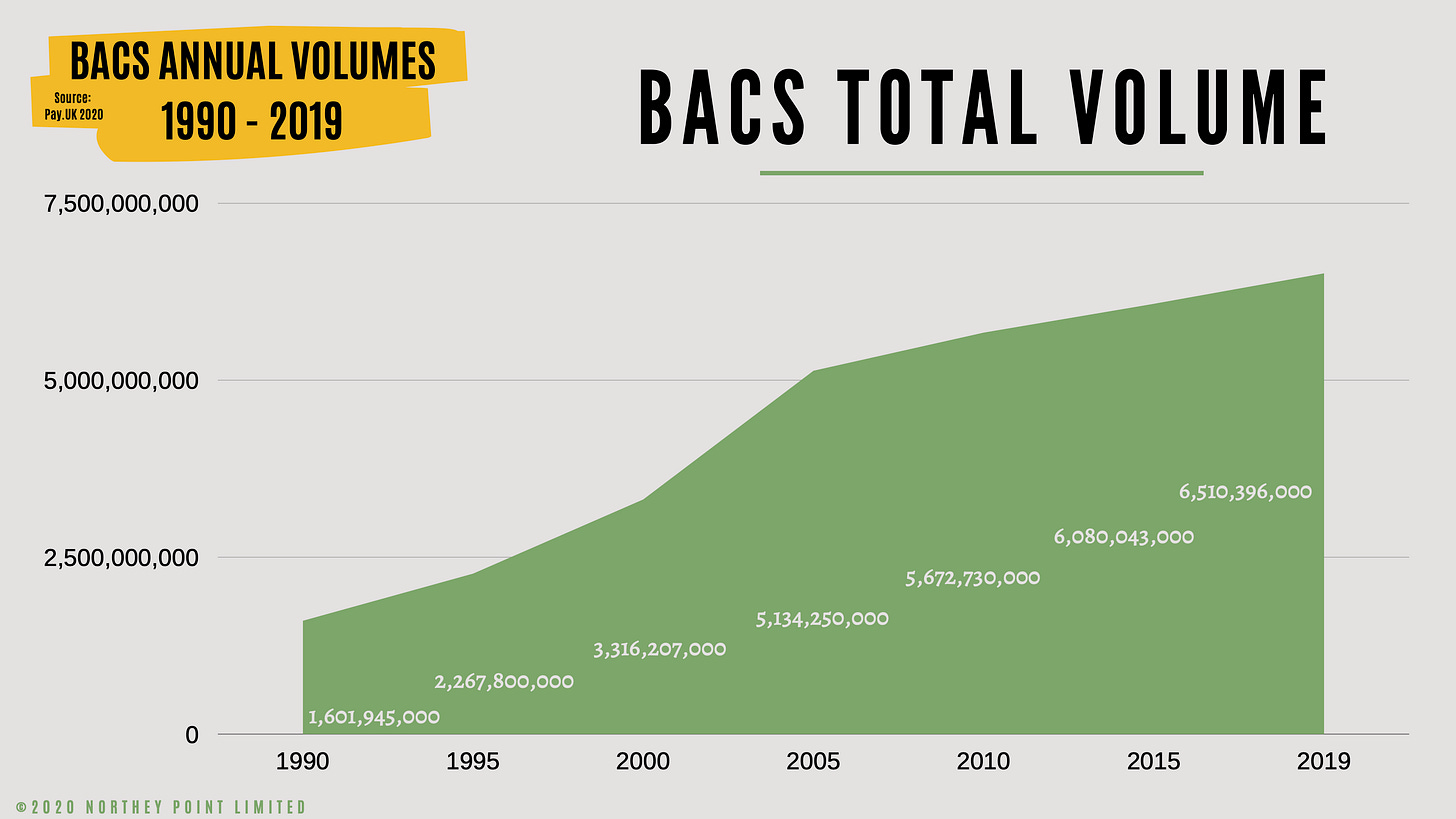 Source: Northey Point
The 2019 split between Bacs push and pull (Direct Credit and Direct Debit) is: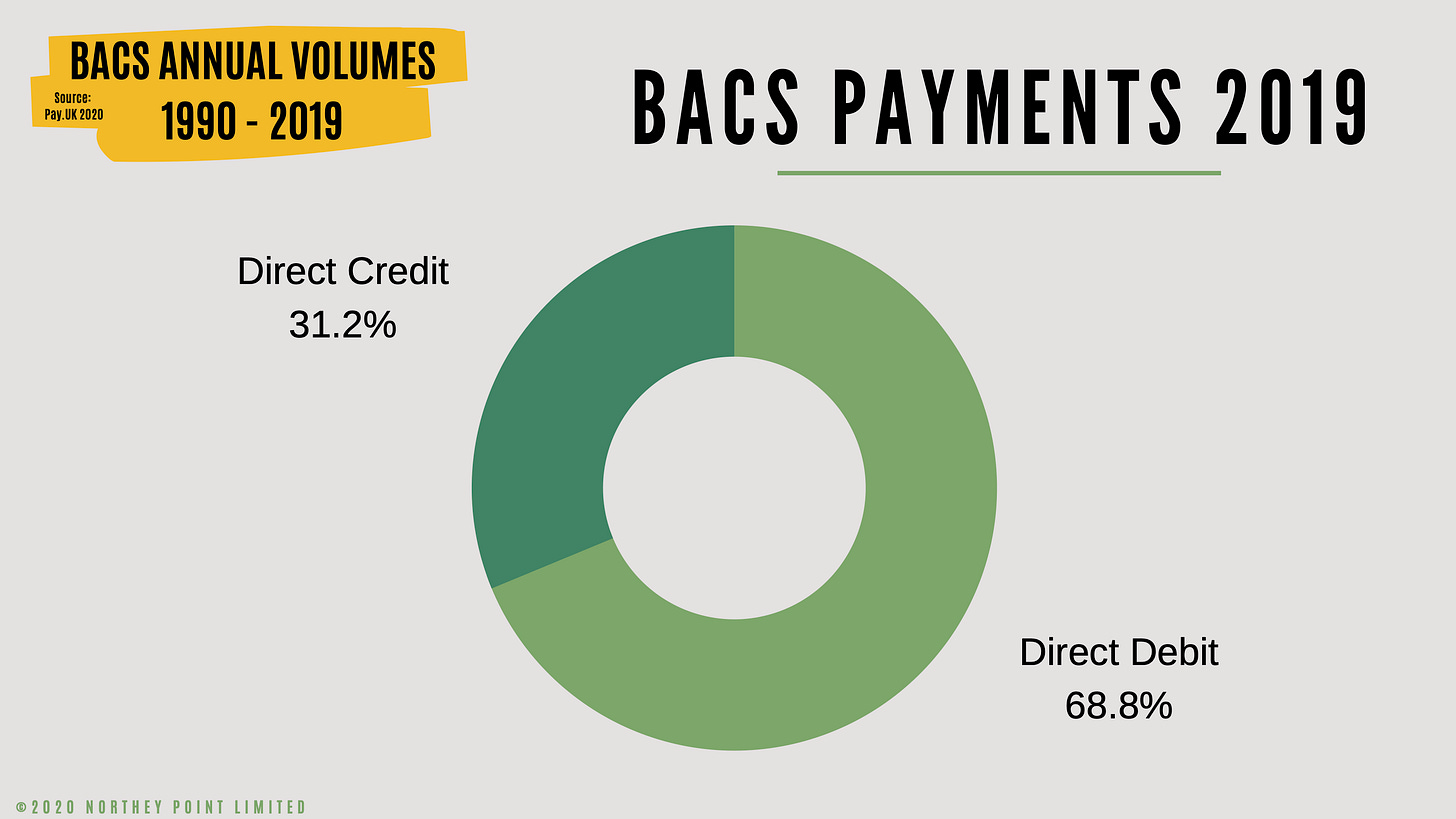 Source: Northey Point
Aggregating the Bacs volume for 2019 would cement its 3rd place and, perhaps, with the decline in Cash transactions it wouldn't be long before it secured a 2nd place - only academic though!
Summary
The UK benefits from a robust and resilient payments infrastructure providing an underlying core clearing and settlement mechanism that consumers and businesses rely upon.
The development of the New Payment Architecture (NPA) will transform the retail payments rails and this will be complemented by the the new RTGS processing environment currently being developed by the Bank of England.
Although the NPA will replace the Bacs and Faster Payments rails (and possibly, in time, the cheque imaging system) the architecture will still operate alongside the card processing rails which creates an inherently large overall cost base.
In addition, given the rapid decline in cash usage the industry faces a growing cost challenge of maintaining the cash supply network which perhaps will lead to the creation of a utility csh supply mechanism.
Sitting on top of the UK's payment rails we are already seeing the delivery of overlay (value add) services such as Confirmation of Payee, Request to Pay and Strong Customer Authentication) and it is likely that these overlay services will be just the first of a wave of developments. We should expect some of these to be delivered before the implementation of the NPA and others will be driven by the opportunities dcreated by the NPA.
The extent to which Open Banking outcomes or new payment infrastructure entrants will compliment, disintermediate or be enabled by the UK's existing and planned retail payment rails has yet to be determined.
What is clear is that consumers are forming new digital payment habits which have been accelerated and made more sticky by COVID19 and these new digital habits are here to stay.
With 'cashless' now a thing the focus should turn to 'frictionless' payments. Initiatives such as Strong Customer Authentication and Confirmation of Payee have the potential to add friction (and payment abandonment) to transactions whereas a fully digital end to end frictionless experience has the ability to transform the was we consume goods and services.
Increasingly the phone in our pocket is both a bank and a complete payment system and increasingly is providing us with a breadth of payment options to make and send payments when and how we want to.
COVID19 has both disrupted our payments and made us form new payment habits. Whilst we do not know what the 'new normal' will look like it is a given that we will not be entering a post pandemic utopia - we will still need to consume goods and services and be expected to pay for them.
Ahead of really unpacking the new payments world let me offer a prediction - cashless will become digital, everything will become remote, integration and frictionless will become the norm and the payments market will become ever more competitive.
This subscription newsletter outlining the UK's payments landscape sets the scene for the 'Payments, Payments, Payments' newsletters in 2020.
Having set the scene the future weekly updates and your subscriber only drops will unpack the UK's changing payments landscape piece by piece.
As ever, I'd value your comments and feedback:
If you enjoy what you read please encourage your friends and colleagues to subscribe either to the 'free' or 'subscriber' levels of this newsletter - this generic link might be useful:
Thanks
Mike