Payments, Payments, Payments
Newsletter 32 | 6 July 2020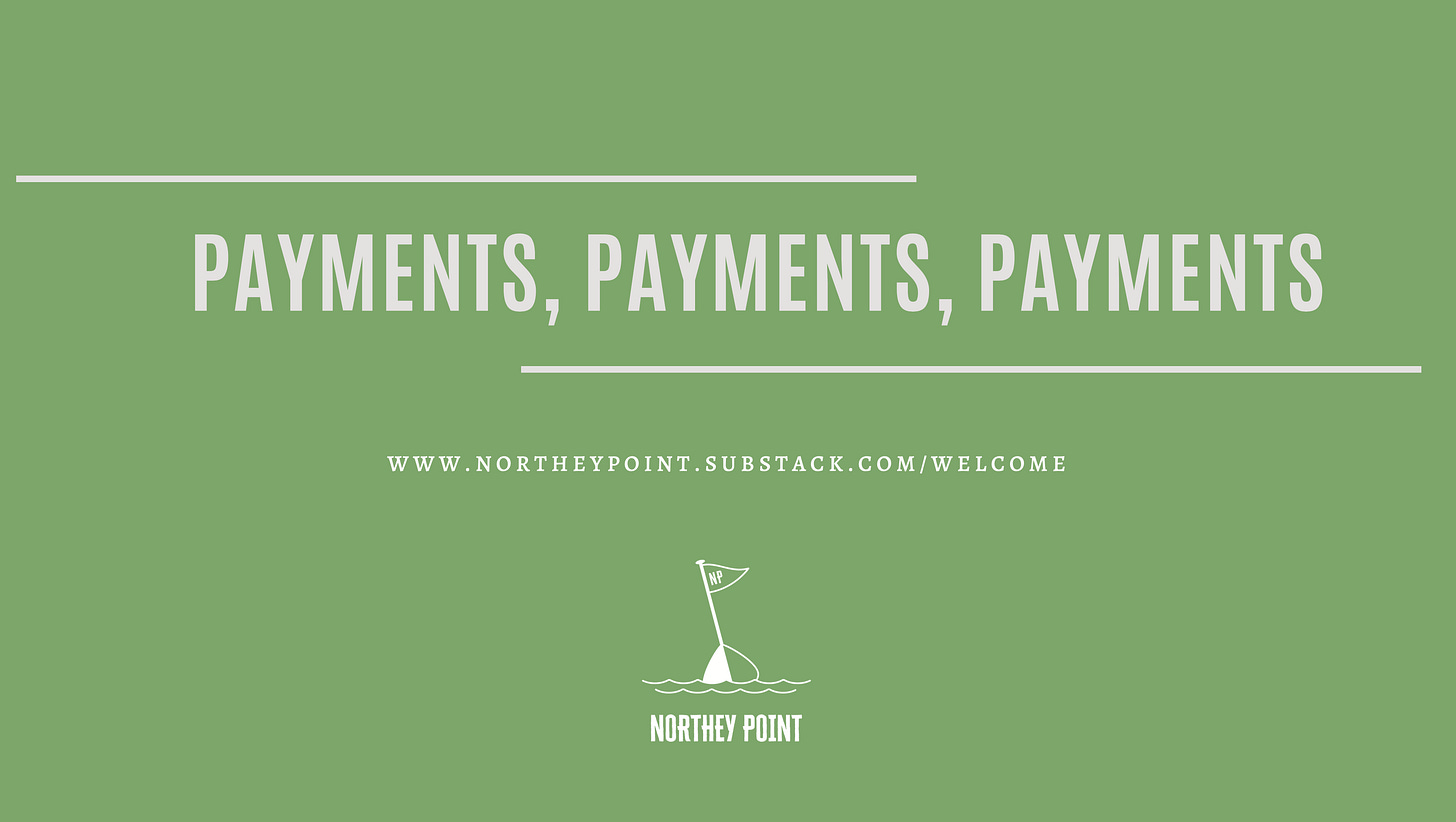 Welcome to edition 32 of "Payments, Payments, Payments".
In this week's curated newsletter we take a quick look at the new payments overlay Request to Pay service being developed by Pay.UK, we look at how charities have protected regular giving during the pandemic and think about audacious dreams and visionaries who are looking not just five or 10, but 50 years ahead.
Over the past few weeks it has been my privilege to chair an Emerging Payments Association project called "Project Recovery". In just a few short weeks we have developed and launched a COVID-19 Recovery Toolkit, find out more below!
To make sure you receive future editions of "Payments, Payments, Payments" subscribe now:
And, please share this newsletter with your friends and colleagues:
Don't miss out on Thursday's subscriber edition - for a 60 day free subscription click here: 60 Day Free Subscription.
Request to Pay (RtP)
Request to Pay is a new, flexible way for bills to be settled between people, organisations and businesses. The service is being developed by Pay.UK - link: Pay.UK Request to Pay.
Request to Pay is a messaging service that has been created to complement existing payments infrastructure and gives billers the ability to request payment for a bill rather than simply sending an invoice. For each 'request', customers will be able to pay in full, pay in part, ask for more time, communicate with the biller, or decline to pay.
Request to Pay is a secure messaging service framework and was launched on the 29th May 2020. It is an overlay on top of existing payments infrastructure as a new flexible way to manage and settle bills between businesses and organisations as well as among friends.
For each 'request', the payer will be able to pay in full, pay in part, ask for more time or decline to pay and begin a dialogue with the requester. It gives more control to the person being asked to pay, but it also gives the Biller all the information they will need to reconcile the payment when it arrives.
The Framework is intended to help FinTechs and PSP's to develop their services that interoperate with each other to deliver Request to Pay to their customers.
Pay.UK have produced this helpful video:
COVID-19 Recovery Toolkit
In a commitment to the Emerging Payments Association (EPA) membership and the wider payments community, the EPA have launched a COVID-19 toolkit.
Through a Recovery Toolkit the EPA are providing access to helpful insights and resources whilst offering a platform collaborate and showcase what the EPA members are doing for the industry during these challenging times. Link: Emerging Payments Association - COVID-19 Recovery Toolkit.
The 2020s Will Be A World Recast By Technology, As Predicted In 1975
It was June 29, 1975 when Steve Wozniak demonstrated the first Apple computer — essentially microcircuits embedded in a wooden chassis — to his colleague Steve Jobs, and the personal computing industry began to bud. Just two months before that, Bill Gates and Steve Allen launched Microsoft to produce software for the Altair 8800.
In a special supplement to the Philadelphia Daily News published April 14, 1975, Shayon predicted that by 2025, newspapers will be published and viewed on television screens. "You won't buy the newspaper at the newsstand," he said. "You will retrieve it at home by pressing a button on a small keyboard near a transistorized flat wallscreen."
What audacious dreams do today's entrepreneurs, innovators and thinkers have for the decades ahead? And who are the visionaries who are today looking not just five or 10, but 50 years ahead? How do they envision technology changing people's lives and livelihoods? 
Grab a coffee and read this Forbes article: The 2020s Will Be A World Recast By Technology.
In Brief

The Times "Money Mentor" has released its analysis of top rated current accounts. Money Mentor consider that a top-rated current account will have lower than average charges, including lower than average fees for using your debit card abroad and reasonable charges for its overdrafts. It won't have any high one-off charges either, for things like cancelling cheques or ordering a new card. It must be a member of the Financial Services Compensation Scheme. Starling Bank is the only personal current account that has achieved a five star rating.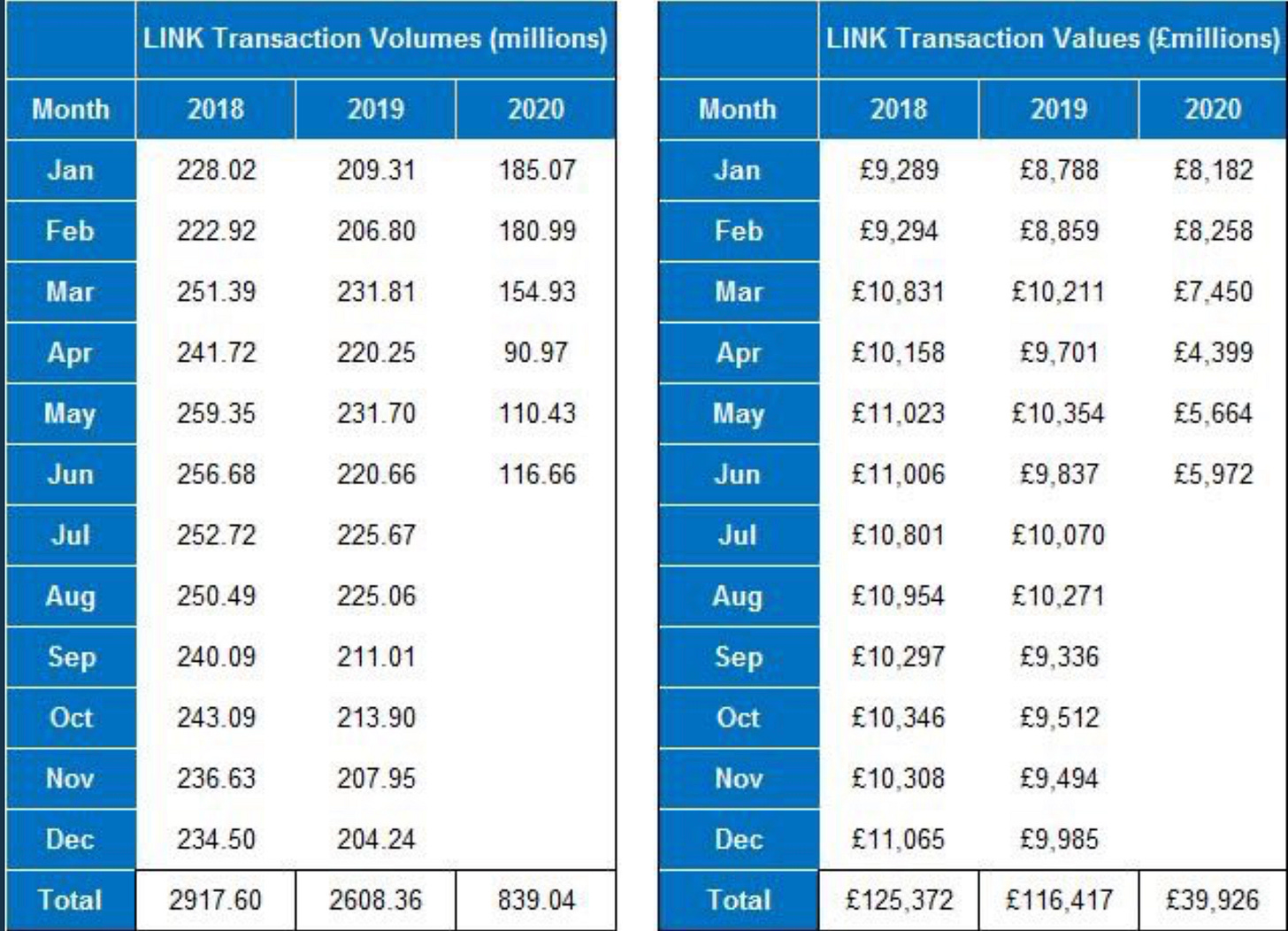 The latest LINK monthly ATM volumes and values show that the ongoing cashless payments effect of coronavirus is still clear. Digital payment habits formed during the pandemic seem to be sticky.
Widespread implementation of the UK's new Confirmation of Payee (CoP) service has been announced by the payments regulator (the Payments System Regulator). Confirmation of Payee helps protect consumers and businesses from certain types of fraud and misdirected payments by letting them know if the account name they have entered matches the account name of the recipient. The Confirmation of Payee service is intended to give businesses and consumers greater assurance that they are sending payments to the intended recipient. Link: Widespread implementation of Confirmation of Payee.
Pay.UK have temporarily extended the Direct Debit dormancy period to a minimum of 24 months – for those operating a 13 month dormancy period. Due to the increasing offering of payment holidays and deferments during the pandemic the operators of the Bacs Direct Debit scheme believe that these changing payment schedules could cause the minimum 13 month Direct Debit dormancy period to be exceeded in some limited cases. Link: Bacs Direct debit dormancy period extended.
Sweden bids to steer customers away from installment payments amid fears over mounting debt. New rules in Sweden to discourage online shoppers from paying with credit could put a dent into the performance of local buy now, pay later company Klarna and other installment-based payment services.
NatWest uses Open Banking for cardless e-commerce payments. NatWest has launched an open banking-based service that lets customers of multiple lenders make instant online payments to participating retailers, without the use of a debit or credit card.
Subscriber Editions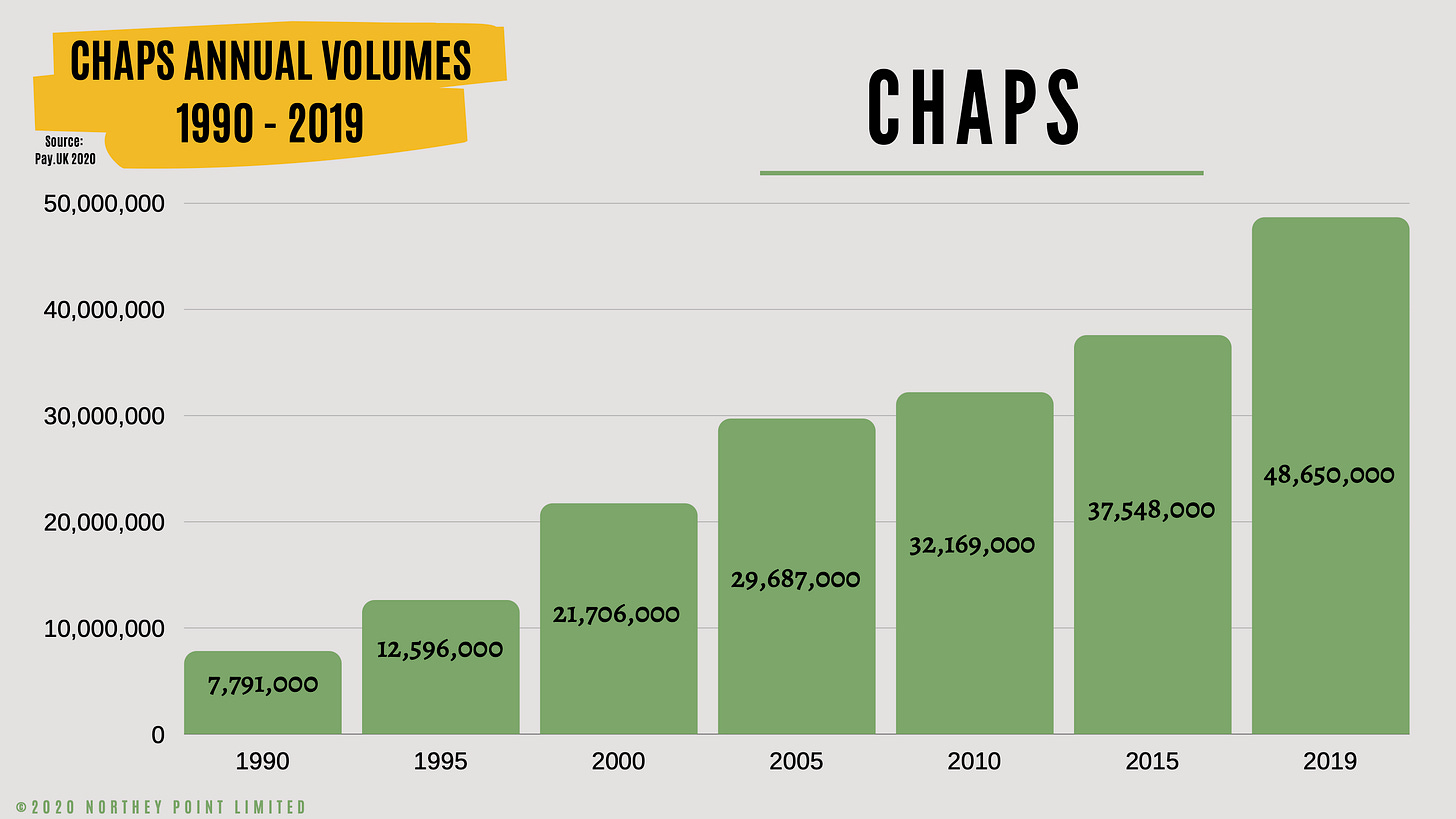 Graphic: Northey Point / Data Source: Pay.UK
In addition to this weekly newsletter I also produce a weekly 'subscriber' edition. So far, we've explored the UK's retail payments landscape, looked at the world's first 24*7*365 instant payment system, considered the 6.5 billion payments processed each year by Bacs and explored the UK's RTGS system.
Click on the following link for a 60 day free subscription (with access to all past subscriber editions): 60 Day Free Subscription.
This Week's Longer Read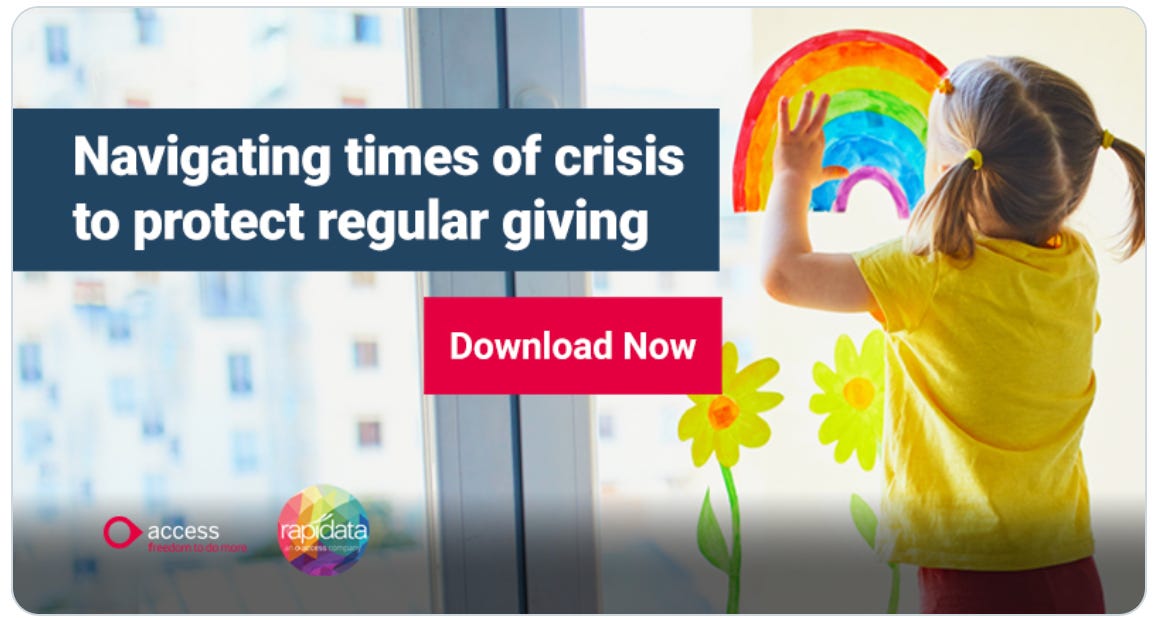 How have charities protected regular giving during the pandemic?
A report by released today by Rapidata (an Access company) has revealed what learnings can be shared to help protect charities in future times of crisis.
The report provides sector insights on regular giving during the coronavirus pandemic, with lessons for the future.
The coronavirus pandemic has had a far-reaching impact on the not for profit sector. The restriction of movement has affected everything from service delivery to funding and fundraising, working practices and employment, just as demand for services has soared.
Vital fundraising channels such as face-to-face and events had to stop and many charities were unable to run activities they were counting on to reach new supporters and raise much needed income for the year ahead.
As a result, it is estimated that the sector could see a £12.4bn shortfall in income for 2020, with some 84% of charities reporting a decrease in their total income during lockdown.
Contributing to this, some regular supporters have found themselves needing to cut back, facing uncertainty over jobs and personal finances. Additionally, new supporter sign-ups have faltered with charities unable to fundraise across all channels. However, the public's renewed sense of solidarity and charitable spirit has also seen online donations spike, demonstrating a will to support.
As the lifeblood for many charities, regular giving can provide a reliable and sustainable income stream that can also cushion a charity in times of crisis.
Rapidata examine how charities can best work to mitigate the effects of this crisis on regular giving, how to build resilience in this area of fundraising, and to protect it both now and into the future.
Read the full report: https://bit.ly/38uuBid
Read, subscribe and share
To make sure you receive future editions of Payments, Payments, Payments subscribe:
And, please share this newsletter with your friends and colleagues:
Thanks
Mike