Hey there sir, want to switch your current account?
Issue 42 | 20 August 2020
Back in September 2013 The Guardian heralded the launch of the UK's Current Account Switching Service (CASS) with the words:
"The race is on to tempt Britain's 46 million current account holders to move their money, with the imminent launch of "seven-day switching". But new research reveals that account holders are more likely to stay with their bank – typically for 17 years – than remain loyal to their husband or wife, with the average British marriage lasting just 11 years and six months.

We should blame our parents if we have a bad experience with our banks, as they have the biggest influence on which account we choose.

According to the Payments Council, the independent body spearheading the new switch service, more than a quarter of us use the same bank as one or both of our parents. "Parental influence is particularly strong for those making their first banking decisions, with almost three in five (59%) 18 to 24-year-olds banking where their parents do"
Whilst partially true for me, my banking choice was really made by my employer as I had no choice but to have an account with them and only them (I was not permitted to hold a bank account anywhere else).
How long have you held a current account with you current provider?
How many different bank accounts do you have?
I'd wager a guess that you've moved your bank account more times than your parents and you are at least dual banked.
Pre-CASS Switching
Although up until 2013 changing your current account was a manual process help was provided by Bacs to transfer your existing Direct Debits and Standing Orders from one bank to another.
The service was called ToDDaSO which stood for Transfer of Direct Debits and Standing Orders.
The service allowed banks in the UK to electronically request the transfer of Direct Debit and standing order payments arrangements, on behalf of new customers, wishing to transfer payment arrangements from a previous bank account.
As of the end of 2014 the ToDDaSO system became defunct with the new Current Account Switch Service (CASS) taking over its role in account switching.
Smooth and hassle free switching
The launch of the Current Account Switching Service in September 2013 provided a smooth and hassle free way of switching a bank account, debit cards, cheque books (remember them?), Standing Orders, Direct Debits, payments and account balance from one bank to another.
Later enhancements to CASS dealt with the transfer of overdrafts - which you will need to pre-agree with your new bank before you commence a switch.
Whilst CASS is a great service, there remain a other few items to consider carefully when switching your bank account.
This includes Continuous Payment Authorities (or recurring payments) processed over debit cards where you will have to change the details yourself or risk impacting your Netflix subscription, XBOX360 pass or Amazon deliveries.
Even David Cameron had a part in CASS!
The impact of CASS was even referenced in David Cameron's account of his time in office:
Challenger banks like Monzo grew out of the reforms that made it easier for people to change their current accounts by forcing banks to share data.

David Cameron, For The Record
I'm sure that Monzo will describe their success to more than just because of the Current Account Switching Service and Cameron's recollections are, of course, subject to a political lens but the resolve of the incumbent banks to make it easier to switch bank accounts is a significant piece of this decades PayTech legacy.
The UK's Current Account Switching Service is something I am very proud to have been a part of - firstly, as a member of the Programme Board and then as the CEO of the firm that operated the service.
Hey there sir, want to switch your current account?
Not the latest advert from Bacs / Pay.UK but this was one I was responsible for and is, probably, my favourite!
Over six million current accounts have been switched since the service went live and more than 40 banks and building societies are now part of the service.
Whether or not Cameron's recollection of the Current Account Switch Service is correct there is much to be proud about a free service that makes switching your current account simple, reliable and stress-free.
What is the Current Account Switching Service?
CASS makes switching your current account between banks and building societies simple, reliable and stress-free. The service is free-to-use and available to individuals, small businesses, charities and trusts.
There are two types of Current Account Switch:
The full switch service, known as CASS, applies where the customer wants a hassle-free service that automatically transfers all payment arrangements to their new bank and closes their existing account.

The Partial Switch Service (PSS) provides selected features of the CASS, but does not involve the customer closing their existing account or automatically transferring all of their payment arrangements. The service is not limited in terms of time and is not covered by the Current Account Switch Service Guarantee. It also enables a switch between account product types other than current accounts (where possible and when both service providers agree).
The performance of the Current Account Switch is supported by a formal Guarantee which means your new bank will switch your payments and transfer your balance, and your old bank will take care of closing your old account.
Pay.UK, together with the banks and building societies that offer the switching service promise that the switch will be easy, free, accessible and guaranteed: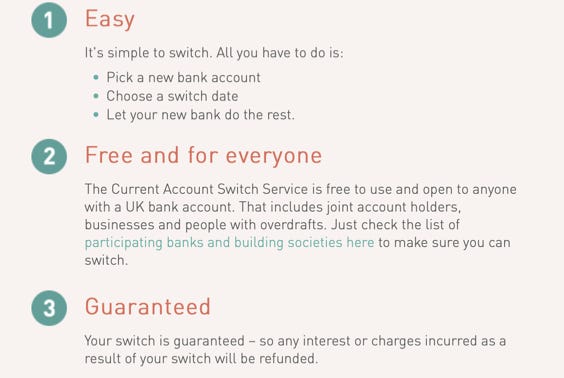 Download: Current Account Switching Checklist.
Three tips before you switch
What happens to your payments when you switch?
CASS performance
In the 12 months to 31 March 2020 there were 1,017,354 switches, this figure roughly mirrors the annual CASS transfers for each year that the service has been operational.
However, not surprisingly, 2020 figures are going to be a little different!
It is already clear that the current pandemic has impacted on people switching their bank accounts.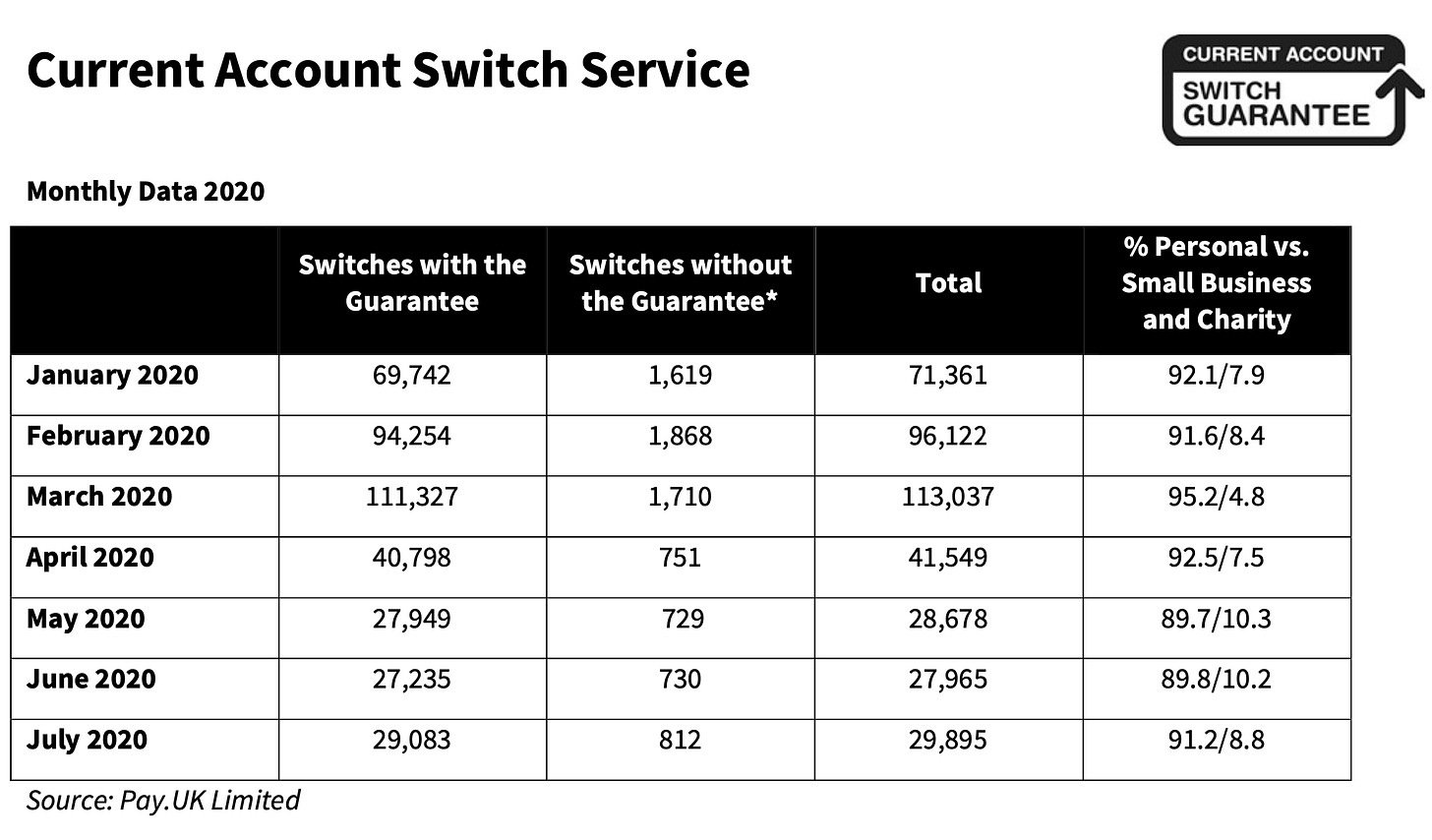 Just 98,292 current account switches were performed in Q2 2020 - this is down from 182,328 in Q1 2020 and a 65% reduction on Q2 2019.
Over the years the CASS service has been widely advertised on TV and social media channels and this has led to awareness of CASS to be 81% and satisfaction in CASS 91%. Related link: Education, the secret sauce.
It is possible that the pandemic dynamics played a part in choosing a new bank as customer service (38%) and online banking offering (43%) were cited as the most popular reasons to switch bank account.
Despite the challenges experienced during COVID the CASS participants managed to achieve a 7 day switch service level of 99.5%.
69% of people surveyed stated that they preferred their new bank.
The split between 'personal' and 'small business' banks account switches increased to 90% / 10% ('small business switches often account for circa 5%).
Bank and Building Society Performance
For competitive reasons, Pay.UK publish participant CASS data a quarter in arrears so the latest data available only provides an insight to the pre pandemic current account switching winners and losers.
The switching winners and losers in Q1 2020 were: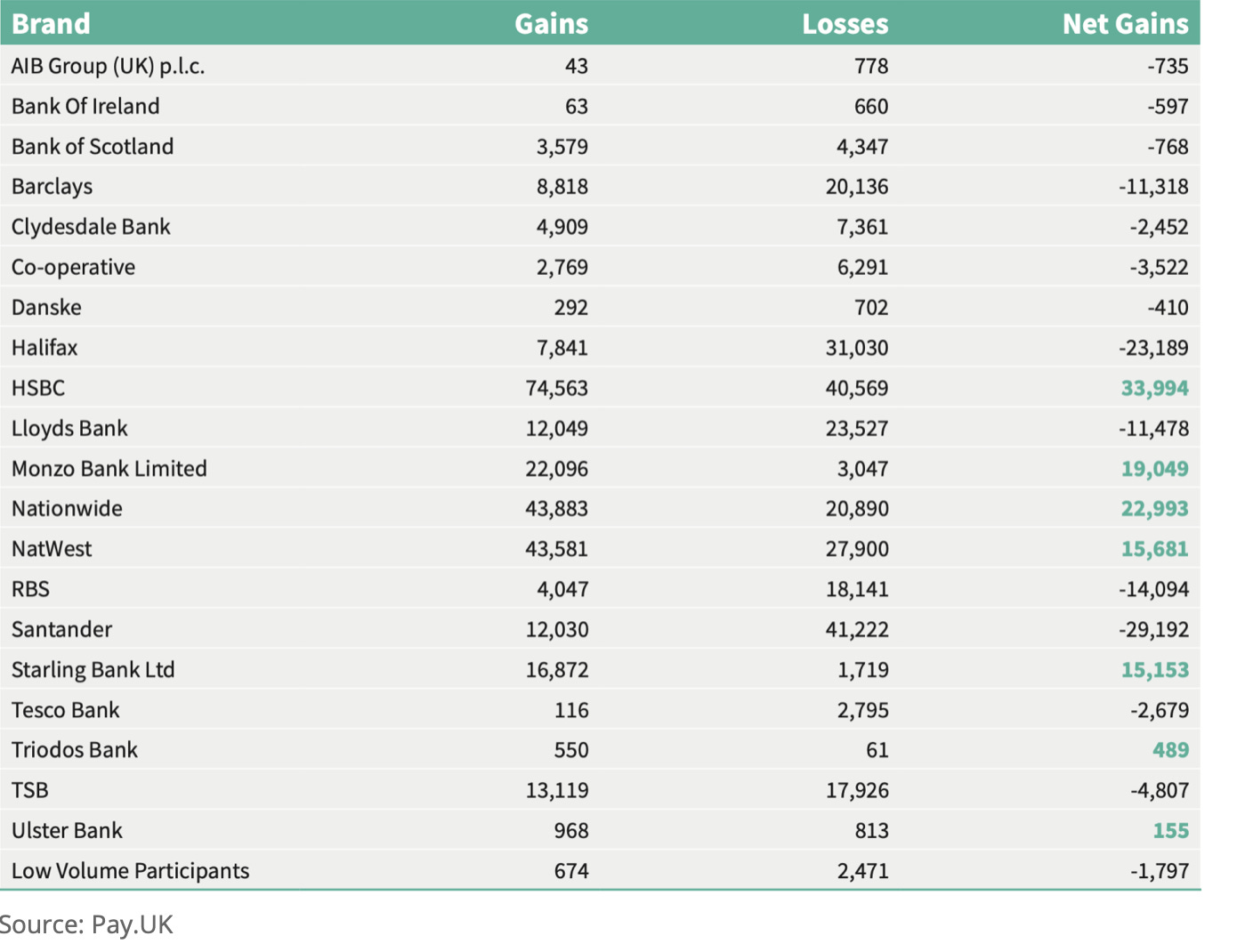 Only 7 of the 49 banks and building societies experienced a net gain in accounts and 2 of these were for small numbers (Ulster Bank at 155 and Triodos Bank at 489).
The Q1 2020 CASS "roll of honour" (net gains): goes to:
HSBC: 33,994

Nationwide: 22,993

Monzo: 19,049

NatWest: 15,681

Starling: 15,153
However, at bank group level Nat West fall out of the top winners (Nat West and Ulster were net gainers but RBS saw a net reduction).
By this calculation Starling Bank would rise to 4th place.
Five banks saw a net reduction exceeding 10,000 accounts, a further 4 saw a net reduction of over 1,000 accounts and a further 4 saw a net reduction of below 1,000 accounts.
Participants with low volumes of current accounts saw an aggregated net loss in accounts.
So, for Q1 2020, only 7 banks saw a net gain and 13 participants saw a net loss (excluding low volume participants).
CASS and Covid
The publication of the participant data for the 98,292 current account switches conducted in the midst of the COVID19 pandemic will be eagerly anticipated – amidst of the pandemic which banks did we / could we choose to switch to? 
We will have to wait until the end of October to find out!